About us in a nutshell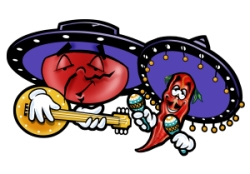 Middle Aged and empty nesters, one of our favorite things to do is try new products from the local folk. We love to support the little guy – the under dog – the stuff the American dream is comprised of. Food and health, in general, are very important in our lives too.
So one day, we were talking with one of our friends, Gary Fisher, about life in general, the economy, job security (actually – the lack of job security) and the possibility of losing our corporate jobs with no warning as so many have done. What would we do? At that time, we brainstormed ideas that would incorporate our beliefs, philosophies and interests into that job they always tell you to find… One that you love to do. Two Amigos was born.
Salsa – the largest growing condiment in America – is versatile, flavorful and healthy. We wanted something a little different, all natural, high quality and supports the local economy.

We teamed up with our Kentucky Neighbor – KHI Foods (http://www.khifoods.com) – a boutique food manufacturer in Burlington, Kentucky. They use all local produce and products from the Tri-state (Ohio, Kentucky and Indiana) to produce our Salsa. We used local resources for the logo concept (OK… our son, Alex Creamer, sketched the logo – he is a natural artist), graphic design by Skribblez Dezine – Galen Bailey (iscribble4u@yahoo.com) labels by Innovative Labeling Systems (http://www.ilslabels.com), marketing pieces by RPI Graphics (www.rpigraphic.com) and company shirts by Yeager Sports (513-385-1950).
In the end, we think we have an incredible product and have helped many small businesses that make this such a great country. Thanks for your support.
Tim Brown and Sharon Chard – The Two Amigos